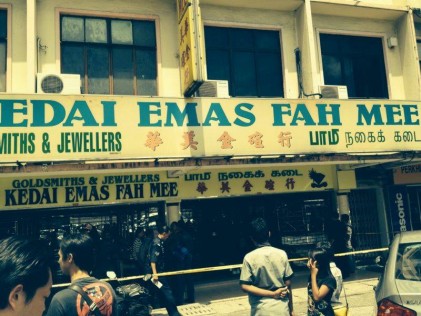 Crime scene: Fah Mee goldsmith shop, Jalan Sentul. Photo courtesy of Deejay Dev.
Masked and armed robbers escaped with jewellery estimated to be worth RM1 million after holding up a goldsmiths shop on Jalan Sentul today.
At about 11.20am, the robbers struck at the Fah Mee goldsmith shop and held up eight employees including the store manager.
Sentul police chief ACP Zakaria Pagan said a robber pointed a pistol at the employees before ordering them to handover the trays of gems displayed in the store's showcases.
He said while the gunman stood guard, his accomplice scooped the jewellery into a bag before rushing out of the store.
Onlookers said that another accomplice was waiting in the car during the heist.
The robbers fled in a silver Proton Waja while the gunman fired a shot towards the store as a warning sign.
None of the employees were injured.
Zakaria said in their haste to escape, the robbers accidentally dropped a bundle containing several gold items, which were later recovered by the employees.
Police said losses were yet to be acertained but an early estimation is said to be around RM1 million.